Company Profile
About Us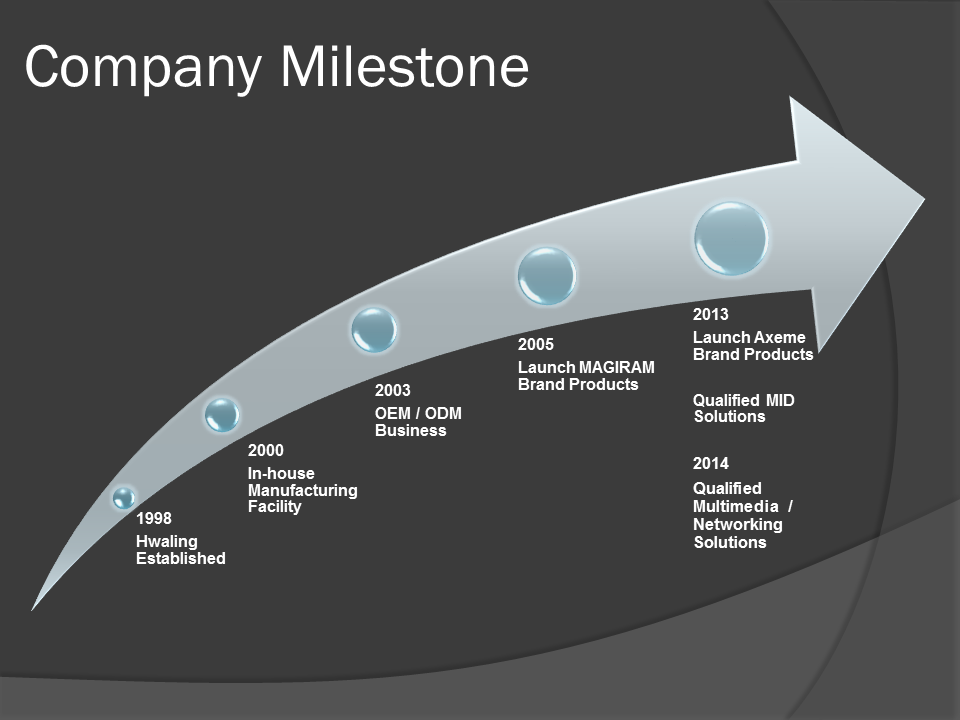 Axeme, the Best Memory Choice!

Hwaling Technology is based in Taipei, Taiwan. 

As the interaction of Communication, Electronic Consumer and Computing gadgets has became the main stream in consumer lives. Hwaling practices his specialty with long-term experience in this memory field to drive quality products and services to customers.

The products are mainly focus on Flash Memory and Storage Products from Flash Memory Cards and DRAM Modules to the Semiconductor Components applied on these products. Correlate to the applicable gadgets, which are OTG (USB On-The-Go) Flash Drive, SSD (Solid State Drive), UFD (USB Flash Disk), Mobile phones, Tablet, Car Camcorder, TV Box, Router, PDA, Notebook, PC, Smart Phone and photo viewers by products or solutions.

Achieving as a professionally in storage solution provider, Hwaling constantly observing and involving in product designs, product development and new technique creation information. To that Hwaling is proud to provide and support customers with product-oriented knowledge as well as the best and comprehensive solutions in the expanding industry.

The last stage of all, Hwaling gains great reputation and trust by not only selling the products or solutions but also sharing professional technique knowledge, product trends and market intelligence with customer partners.

The final goal of Hwaling is to enjoy and treasure the greatest success with all the customer partners and suppliers for the long being.


---
【Exclusive Interview】Hwa Ling Technology : A Newcomer in Memory Industry with Its Own Brand

Published Dec.08 2008,15:24 PM (GMT+8)


In the ever-changing global memory market, stories about manufacturers who compete with own-brand products are especially valuable. One good example is Hwa Ling Technology, a Taiwan memory module and flash card maker, and the company's general manager, Helen Lee, recently shared Hwa Ling's experience in own-brand management with DRAMeXchange.


A Sweet-And-Bitter Year as Own-Brand Manufacturer
Lee said since Hwa-Ling started as an OEM maker, past experience showed that the company's operations were always subject to clients' demands, in terms of both prices and orders. OEM manufacturing not only failed to boost the company's revenues but also diminished its long-term competitiveness, and that's exactly why Hwa Ling decided in mid-2007 to transform itself as an own-brand maker, she added.

When asked about Hwa Ling's marketing strategies for own-brand products, Lee indicated that the company has focused on helping local distributors organize marketing events, which include DRAM/Flash product packaging, shop interior designs and display, etc, and when the marketing channels are thus established, Hwa Ling can charge higher for its products and the distributors will also benefit with simultaneous growth. If certain marketing strategies prove successful in one country, the methods will be duplicated in other countries and areas. With such strategies, Hwa Ling will keep promoting its own brand and find its feet in the global market, said Lee.

On Inventory Management
Lee pointed out that DRAM prices often experience wild fluctuations in very short time, which in turn can cause huge losses for manufacturers. As most competitors adopt the conventional manufacturing procedure of "material preparation, production and inventory," Hwa Ling has developed a new method for faster delivery. The company would first put the MAGIRAM logo on its own-brand products, she added, so any orders will be delivered in half a day to achieve the zero-inventory goal.

Sticking to Own-Brand Strategy
Lee said even though it is hard for Hwa Ling to develop its own brand, the company will stick to this strategy in the future. Own-brand products now contribute a mere 20% to overall revenues, but prospects for growth look good, as the market share of the company's own-brand products is expected to see compound annual growth rate of 30%. Hwa Ling is optimistic about such operation model and will stick to the strategy, according to Lee. As for the year 2009, Lee said even though the DRAM market is being hard-hit by gloomy outlook for global economy, Hwa Ling remains positive towards the market's prospects. The company will carry on with its operation model of offsetting smaller profit margins by selling in larger quantities, in the hope that this will benefit its clients at the same time, she continued.

A DRAM Alliance Proposed
Lee went on to urge DRAM makers to unite, and set up an industry alliance like the oil industry's Organization of the Petroleum Exporting Countries (OPEC). Such alliance can help fend off price-cut requests from malicious clients and save members a lot of time for individual price negotiations. On a long-term basis, it will also prevent a vicious circle among DRAM makers and their clients, which eventually will lead to a healthier DRAM market and industry chain, Lee concluded.
Corporate Facts
Foundation

April 1998

Chairperson

Helen Lee

President:

Jack Yu

Paid-in Capital

USD 3.0 Million

No. of Employee

40↑

Location

New Taipei City, TAIWAN
Global Market Share
Asia

60%

Europe

20%

America

5%

Australia

5%

Africa

5%
Corporate Advantages
Product Line
Certification
Good Customer Base

DRAM :

‧
ISO 9001 Certified
‧
Components
‧
RoHS Compliant
‧
DRAM Module
‧
REACH compliant
 

Flash :

 
‧
SD Card
 
‧
USB storage
 
‧
SSD
 
‧
Flash IC
 
Cebit Hannover showcase
Product Line
| Flash Product Line | | DRAM Product Line |
| --- | --- | --- |
| |   | |
Axeme Branding Story
The exclusive brand name of Hwaling Technology: Axeme (Arctic gull)
Represents grant Ability, great flexibity, great agility.

Also stands for wisdom, vivacity, energy, completely representing the company's entrepreneurial spirit and philosophy!!

Hoping this whole new brand can face market challenges, with non-fear spirit and making the most value.
Establishing our market position and identity, also gaining recognition from customers.
CPU Brand & Approval
| Customer | Brand | Applications |
| --- | --- | --- |
| | Actions | MP3/ MP4/ Tablet/ Bluetooth Speaker/ OTT |
| | Allwinner | Tablet/ E-book/ Student PC/ OTT/ Automotive |
| | Novatek | Car Camcorder |
| | Rockchip | PMP/ Tablet/ E-book/ OTT/ Bluetooth Speaker |
| | Amlogic | Tablet/ STB/ OTT |
| | Montage | STB |
| | MStar | STB/ OTT |
| | Actions-Micro | Wireless Multimedia Display |
| | Availink | STB/ OTT |
| | Sunplus | STB/ OTT |
| | Nationalchip | STB |
| | ALi | STB/ OTT |
| | Hisilicon | IP camera/ OTT |
| | Haier | STB |